This post may contain affiliate links, which means we may receive a commission, at no extra cost to you, if you make a purchase through a link. We are a participant in the Amazon Services LLC Associates Program, an affiliate advertising program designed to provide a means for us to earn fees by linking to Amazon.com and affiliated sites.Please see our
Disclosure
for more information.
Receiving a Visa gift card is always nice, since its value can be used towards the purchase of most anything. However, people sometimes misplace them or forget to use them before they expire. It's also easy to forget to use your gift cards with partial balances remaining. So why not clean up your wallet and add your Visa gift card to your Amazon account?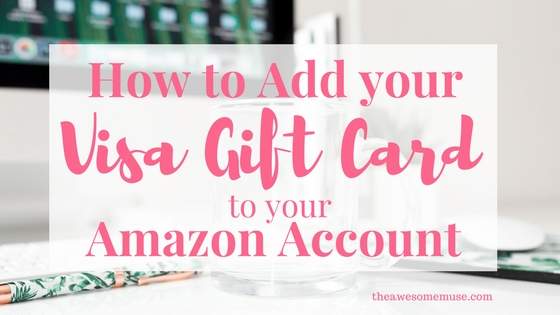 When you add your Visa gift card to your Amazon account, you'll never lose your gift card again.
A solution is to transfer funds from a Visa gift card to an Amazon.com account, where they never expire and are automatically applied to your next purchase.
How to add Your Visa Gift Card to your Amazon Account
Amazon treats a Visa gift card in much the same way as it treats a credit card. These easy steps show you how to make the transfer.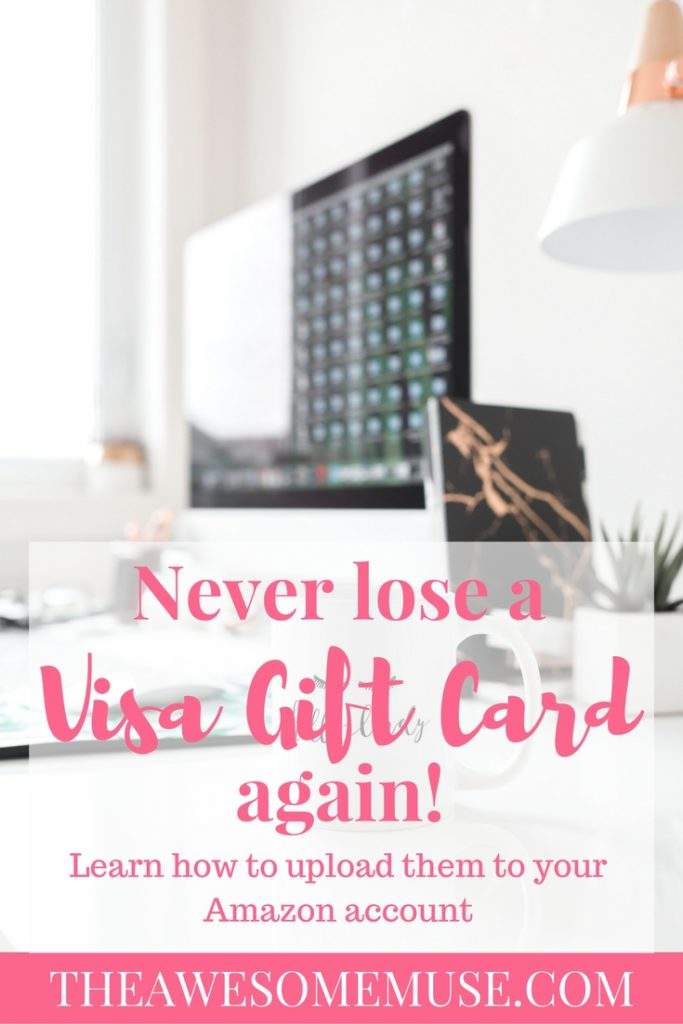 Activate your Visa gift card
First of all, you will need to activate your Visa gift card if necessary.
Most Visa gift cards come activated and ready to use, but some require activation by the recipient. If your card requires activation, a sticker on the front of the card should inform you so. Activate the card by calling the number printed on the sticker.
The cardboard sleeve may even indicate that the gift card was activated when purchased.
The Card's Value
Determine how much value is remaining on the Visa gift card.
On the back of the card, there should be a phone number to call and hear the current balance. There may also be the URL to a website where you can view the balance. For this article, suppose the balance is $72.00.
The phone number and URL on your gift card may differ from those shown below.
Sign in
Navigate to Amazon.com and sign in to your account.
Click on Accounts and Lists and then Your Account.
View Your Balance
View your current Amazon account balance.
Your current balance is displayed towards the top of the page.
Then click on Gift cards, View balance or redeem a card.
You may have to sign in again to proceed. The second sign in is a security measure.
Reload Your Balance
Click Reload Your Balance.
[alert type="info" icon-size="normal"]Note that you should not click "Redeem a Gift Card". That option is used to redeem an Amazon gift card, not a Visa gift card.[/alert]
Enter the current balance of the Visa gift card. For example, if the remaining balance were $72.00, then the number would be entered like this:
If your balance is exactly, $50, $100, $200, or $500, you may click the button corresponding with the balance.
Add Your Visa Gift Card and Update your Info
Below this "Amount" section is the "Payment method" section. At the bottom is the option "Add a card".
Enter the requested information as if the card were a credit card.
[alert type="info" icon-size="normal"]The name on a gift card is often "A Gift For You", "Especially For You", or "Gift Card Recipient". Be sure to enter that name in the "Name on card" box.[/alert]
Click Next and select or enter your address as the billing address.
If the gift card were a credit card, Amazon would verify that the selected billing address matches the address associated with the card. In the case of a gift card, there is no address associated with the card. (It is unclear whether Amazon uses the selected address for any purpose.)
Select the newly added card.
After selecting an address, the new card is added to your account. If the card is not automatically selected, select it from the list of payment methods.
The Terms
Familiarize yourself with the terms and conditions.
Amazon treats the addition of funds to your gift card balance as the purchase of a gift card. The most favorable term is the statement that gift cards issued after October 1, 2005, do not expire, regardless of any stated expiration date.
Note that this term applies to cards whose funds were transferred to Amazon before they expired. If the Visa gift card expired prior to an attempt to transfer its funds, the attempt will be unsuccessful.
Reload the Card and Confirm Your New Balance
Click Reload at the bottom of the page.
Receive confirmations.
Amazon will display a status message on screen.


Amazon will send an email confirming the request to add funds to your account.
Amazon will send a final email confirming the addition of funds.
View gift card activity
Once you have successfully been able to add your Visa gift card to your Amazon account, you can view details of the transaction in Gift Card Activity, which is on the same page where you clicked "Reload Your Balance".
Now you're ready to shop
View products.
When viewing products on Amazon, you will see a note stating that your gift card balance can cover all or a portion of the cost of the item.


Now, you may make a purchase when you find.
When you make a purchase, funds from your gift card account will be used first, followed by your default payment method.
It may seem like quite a few steps, but it's really quick and easy to add your Visa gift card to your Amazon account.
You May Also Enjoy
Do you use promo codes to save money when you shop? If so, you'll love using Honey. It's a browser extension for your computer that searches for promo codes for you. Learn how to sign up to use Honey here.
Are you feeling lucky? Find out what gets pack in my bag when I go to Vegas!
Enjoy another shopping round-up in our latest seasonal favorites.