This post may contain affiliate links, which means we may receive a commission, at no extra cost to you, if you make a purchase through a link. We are a participant in the Amazon Services LLC Associates Program, an affiliate advertising program designed to provide a means for us to earn fees by linking to Amazon.com and affiliated sites.Please see our
Disclosure
for more information.
Sometimes you put something in your mouth and just say wow. And these little mini pumpkin cheesecake bites are a one of those recipes. Sure to be a crowd favorite during the holidays because they look almost as good as they taste!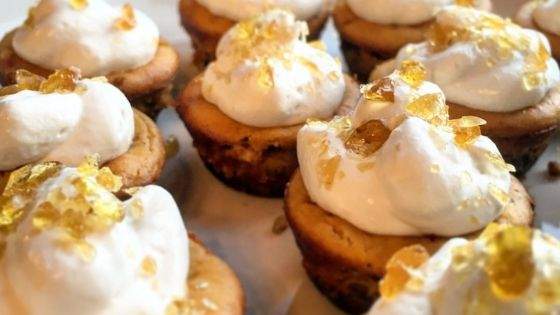 Really and truly, these mini cheesecakes are going to knock your socks off. And they come together in less than an hour. No one will know that you didn't spend hours making these. So be sure to show them off, particularly for Thanksgiving dinner!
Serving Mini Pumpkin Cheesecake Bites for Thanksgiving
We know these are already super yummy, but why not add a little "sparkle?," You can top each cheesecake with salted-caramel crunch or some of Callebaut's Crispearls. It adds the perfect bit of crunch while adding a little extra somethin' somethin'. If you can't find any in your local grocery store, you can order some on Amazon.
Or you could top these mini cheesecakes with your favorite caramel sauce or some chopped nuts. For variety, you can serve some of the cheesecake bites with the salted-caramel crunch or caramel crispearls, some with caramel sauce, and some with nuts.
Or if you'd rather keep things simple, you can sprinkle some pumpkin pie spice or cinnamon, or even a whole star anise pod, on top of the whipped cream.

And if you're serving more than one dessert, you may also want to try a couple of our other great Thanksgiving desserts like our Pumpkin Pudding Cake, our Apple Walnut Bundt Cake, and for the kids, our Thanksgiving Turkey Cupcakes, aka Gobble Gobble Cupcakes. They're really fun.
Ingredients you need to make Mini Pumpkin Cheesecake Bites
Makes 24
Maple Whipped Cream:
1 pint heavy whipping cream
2 t. vanilla extract
2 T. real maple syrup
 Homemade Gingersnap Crust:
1 ½ c. crushed gingersnap cookies (approximately 25-30 cookies)
2 T. unsalted butter, melted
Pumpkin Cheesecake:
8 oz. package cream cheese, room temperature
1 c. light brown sugar, firmly packed
1 t. salt
3/4 c. canned pumpkin (not pumpkin pie mix)1 T. Greek yogurt
1 egg
1 t. pure vanilla extract
2 t. ground cinnamon
1 t. ground nutmeg
1 t. ground ginger
½ t. ground cloves
Optional garnishes to top your mini cheesecake bites:
Salted Caramel Crunch (pictured)
Callebaut's Salted Caramel Crispearls
Caramel sauce
Chopped nuts
Cinnamon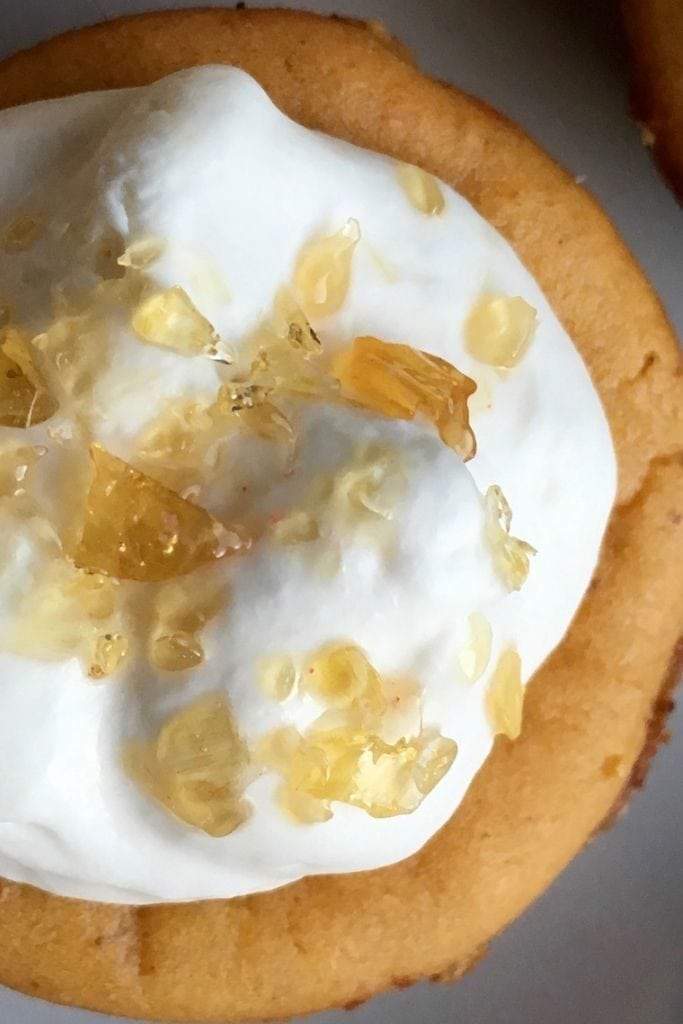 How to make Mini Pumpkin Cheesecake Bites
So it may look like a lot of steps, but when you break down the recipe into making the crust, the whipped cream, and the pumpkin cheesecake filling, it's a lot easier than it may look at first.
We recommend measuring everything you will need first to save time and make things easier.

Print Recipe
Pumpkin Mini Cheesecake Bites
Enjoy some delicious mini pumpkin cheesecake bites for Thanksgiving or anytime. Made with homemade gingersnap crust and topped with homemade maple whipped cream and salted caramels, they are absolutely delicious. Families love these yummy desserts and are the perfect finger food dessert for your parties.
Ingredients
Whipped Cream:
1

pint

heavy whipping cream

2

t.

vanilla extract

2

real maple syrup
Crust:
1 ½

c.

crushed gingersnap cookies

approximately 25-30 cookies

2

unsalted butter

melted
Pumpkin Cheesecake:
8

oz.

package cream cheese

room temperature

1

c.

light brown sugar

firmly packed

1

t.

salt

3/4

c.

canned pumpkin

not pumpkin pie mix

1

Greek yogurt

1

egg

1

t.

pure vanilla extract

2

t.

ground cinnamon

1

t.

ground nutmeg

1

t.

ground ginger

½

t.

ground cloves

Optional garnish:

Salted Caramel Crunch

pictured

Caramel sauce

Chopped nuts
Instructions
In a large glass bowl, blend 1 pint of heavy whipping cream and vanilla extract with a hand or immersion blender until it doubles in size and changes texture. Then, drizzle maple syrup into the bowl and continue blending until the mixture is light and fluffy. Set aside or place in refrigerator until ready to use.

Preheat oven to 350 degrees. Spray 24-cup mini muffin pan with non-stick cooking spray and set aside.

Put cookies in a large heavy-duty freezer bag and cover with a towel. Pound bag with a meat mallet or rolling pin until cookies are uniformly crushed into very small pieces. (This can also be done in a food processor).

Transferred crushed cookies to a glass bowl and add melted butter. Stir with a fork until thoroughly combined.

Note: Add a little more melted butter to hold cookie crumb mixture together, if necessary. However, do not add too much or the butter will compete with the flavor of the gingersnap crust.

Divide cookie crumb mixture into 24 equal parts and press into the bottom of each muffin cup firmly with your fingers to form a crust. Bake in preheated oven for 8 – 10 minutes. Remove from oven and set aside.

In a large mixing bowl, combine cream cheese, brown sugar, and salt with a hand-held mixer. Add pumpkin puree and Greek yogurt to cream cheese mixture and continue beating until combined.

Open egg in a separate bowl before adding to the cream cheese mixture. Then blend in vanilla, cinnamon, nutmeg, ginger, and cloves. Continue blending until all ingredients are thoroughly incorporated into the batter.

Evenly divide pumpkin cream cheese mixture between the 24 muffin-tin cups, placing on top of the pre-baked cookie crust. Fill each cup slightly higher than the edge of the pan.

Place muffin tin on center rack of oven and bake for 15 - 20 minutes, or until the tops are lightly browned and the pumpkin mixture has set. Remove from oven and cool completely before removing mini-cheesecakes from tin. Refrigerate for several hours or overnight before serving.

To serve, top with whipped cream and salted-caramel crunch or your favorite caramel sauce. If using homemade whipped cream, spoon it into a plastic sandwich bag and cut a small corner off one bottom side. Pipe onto individual mini-cheesecakes for greater control.
Notes
Please note that nutrition facts are subject to change based on your choice of ingredients.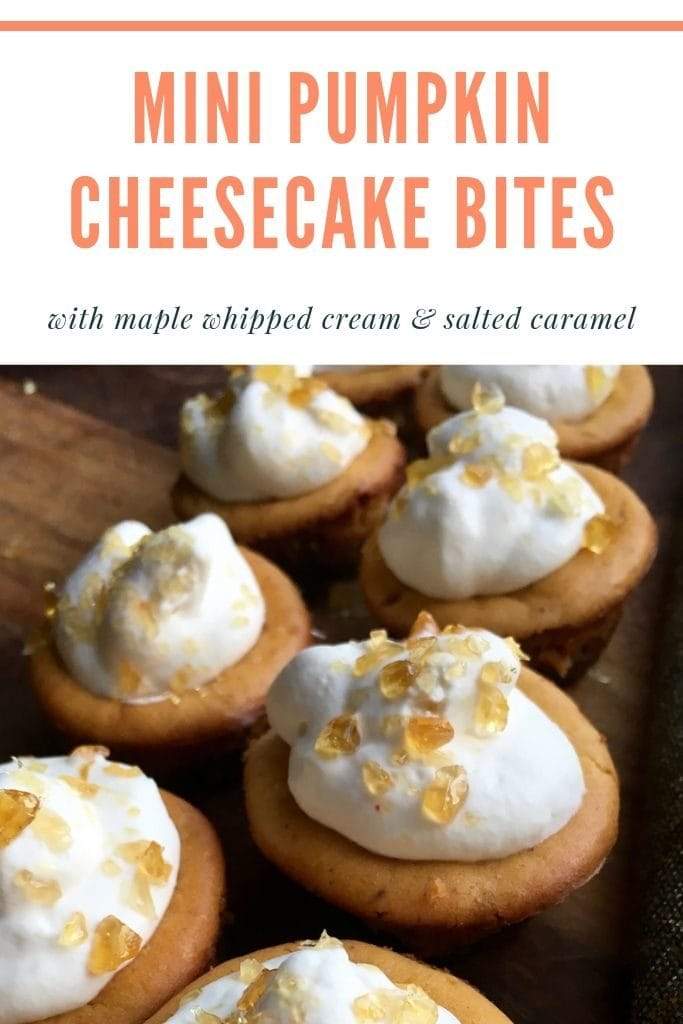 try it and share!
Please let us know how you enjoy our Mini Pumpkin Cheesecake Bites recipe. If you make it yourself, please let us know on Pinterest that you tried it and tag us with #theawesomemuse on your Instagram photo. If you haven't had a chance to make it yet, be sure to save the recipe on Pinterest so you'll remember where you found it.
You may enjoy following our Pinterest Boards, Dessert Recipes and Thanksgiving Dessert Recipes.