This post may contain affiliate links, which means we may receive a commission, at no extra cost to you, if you make a purchase through a link. We are a participant in the Amazon Services LLC Associates Program, an affiliate advertising program designed to provide a means for us to earn fees by linking to Amazon.com and affiliated sites.Please see our
Disclosure
for more information.
Once you see these adorable Grinch Sugar Cookies, I bet you'll want them to be a part of your holiday gatherings. Even the most dedicated fan of Christmas can appreciate the feelings of the Grinch at times – at least a little. Sharing a big plate of smiling Grinch cookies is a lot of fun, especially when you see how much the kids love them!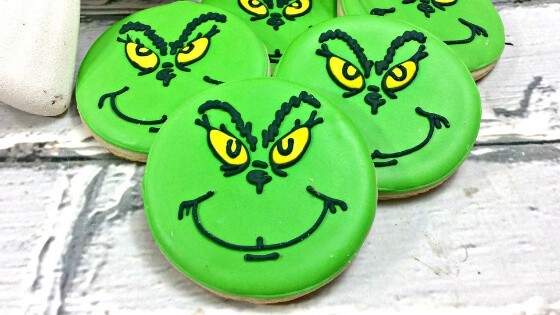 The recipe is a pretty basic sugar cookie, but so soft and fluffy that they seem to melt in your mouth. Add the frosting and the flavor is just off the charts. At first, you may think that these Grinch Sugar Cookies are too cute to eat. But just try one. After that, I wish you luck staying out of them!
Yes, I will admit that the decorating may be a bit tricky. Some people have amazing skills with decorating cookies. And some people – not so much. But even if you don't have those mad Martha Stewart skills, I hope you'll still give it your best shot. After all, sometimes those "nailed it" results are even more fun than those perfect Pinterest images.
If you make these Grinch Sugar Cookies, I'd love it if you shared pictures of your results!
Cute Christmas Grinch Sugar Cookies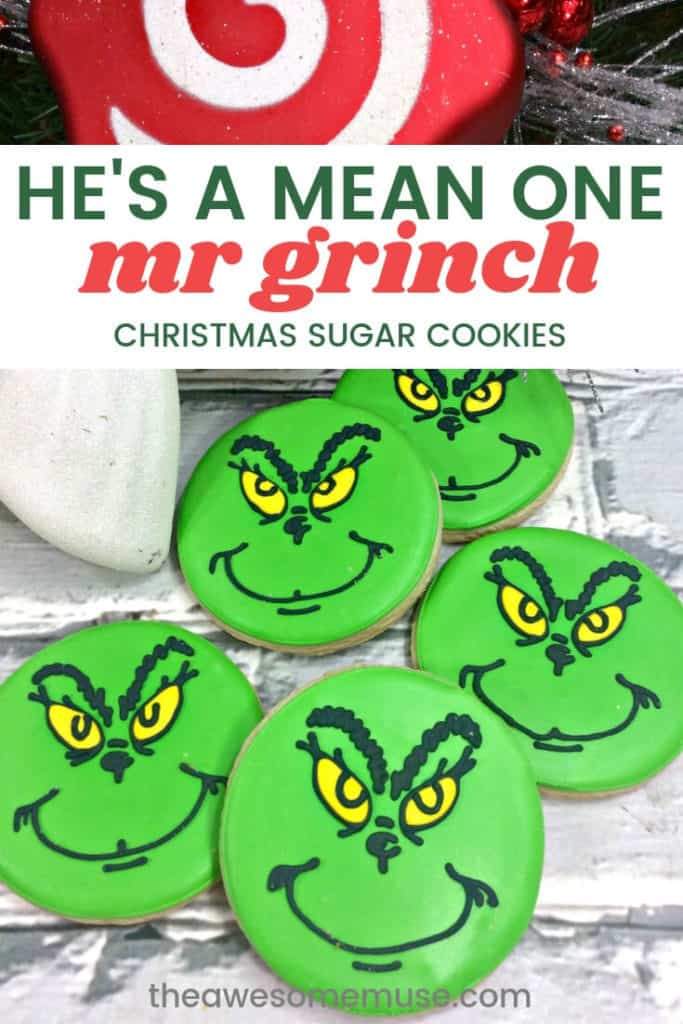 Let's make some Grinch sugar cookies for Christmas! They are perfect to make when you watch the new movie or when the classic comes on TV.
Put on your favorite Grinch sweaters and start baking! Here's one of my favorites:


The Grinch Ugly Christmas Sweater
One of the fun things about getting ready for Christmas is making fun treats with the kids. I mentioned earlier that these cookies can be a little trickier than some, but since the base cookie is so simple, it's still a great project for your kids to help out.
Depending on their ages, they can help with rolling and cutting the cookie dough. And if they are a bit older, they can help with piping the green icing too. There are some kids who can pipe his face better than I can, so it's fun to let them have a go.
You know your kids best, so if you think they can make some great Grinch faces, have at it! The messy ones can be the most fun to serve after all! And at the very least, they are fun to share the pictures of on Facebook and Instagram. And they still taste great!
It's a great time to put on the classic, How the Grinch Stole Christmas while you're baking or decorating. And these are great for getting in the mood to watch the new Grinch movie too! The Grinch is one of my family's favorites!
You may also enjoy making our Christmas Sandwich Cookies or Chocolate Mint Oreo Brownies. They go great with a Grinch theme too!

So does a delicious Grinch Ice Cream Float!
Ingredients you need to make Grinch Christmas Cookies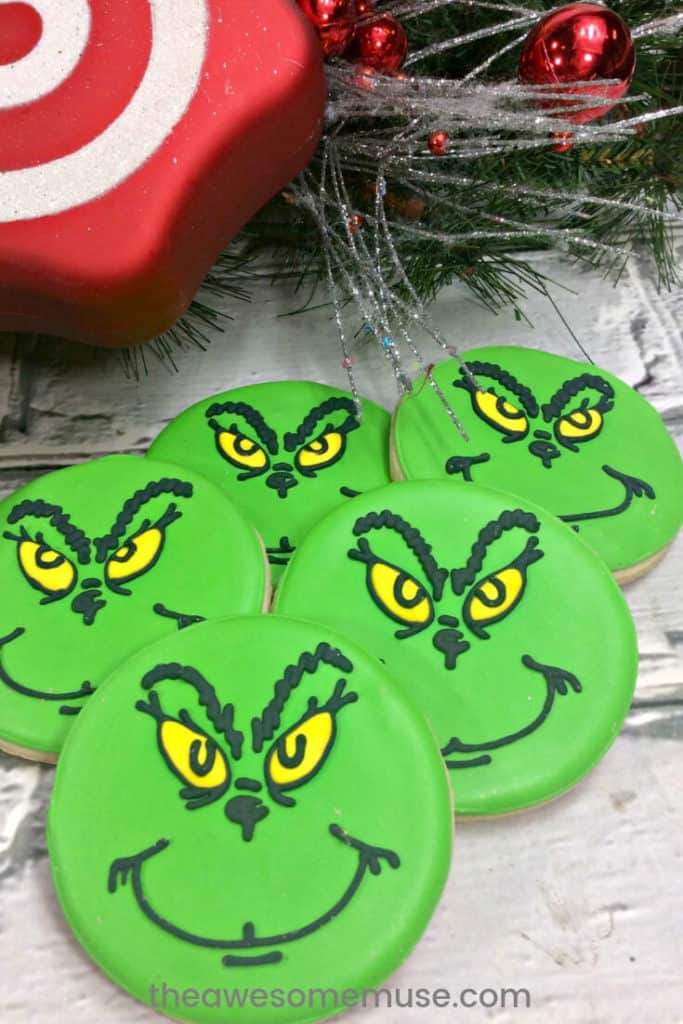 Before you get started, make sure you have these ingredients for the cookies and the icing.
Cookie Ingredients:
Unsalted Sweet Cream Butter, softened
Powdered Sugar
Vanilla Extract
Egg
Flour
Baking Soda
Cream of Tarter
You will need a circle shaped cookie cutter.
Decorating Tips and Tricks:
After you make your icing, be sure to divide it into three bowls, one for each color. Then you'll take about 1/4 cup of each icing color and put it into a piping bag with a number 2 tip.
After you do that, take the rest of your green icing and water it down. Then you'll pour it into a squeeze bottle.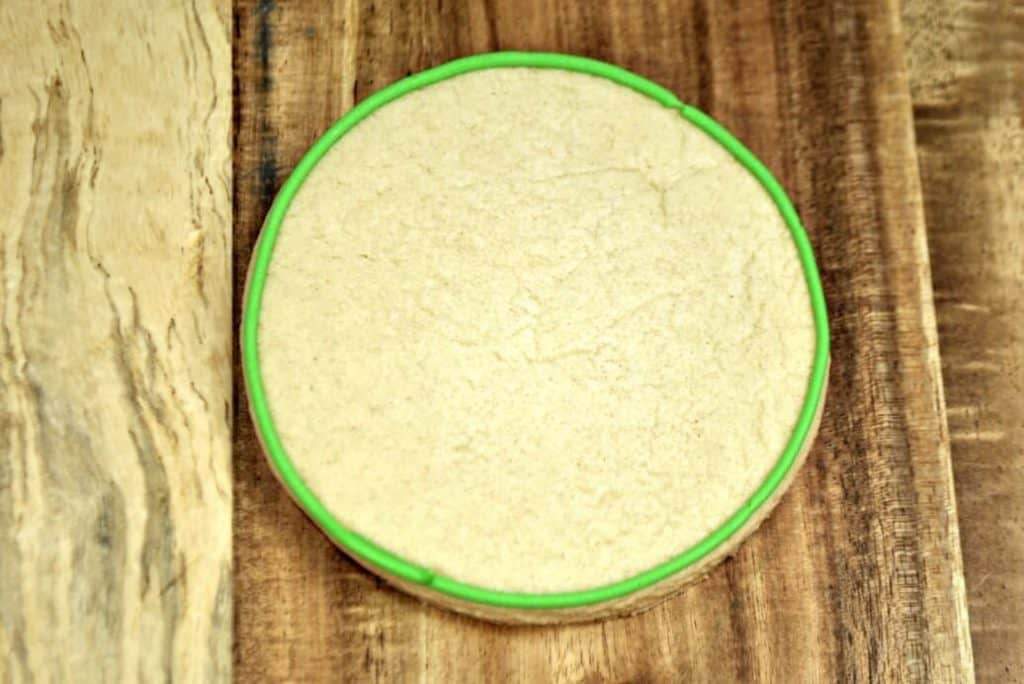 Using the green icing, pipe a line around the edging of the circle. Then fill in the circle with the thinned green icing in the squeeze bottle and allow to dry over night.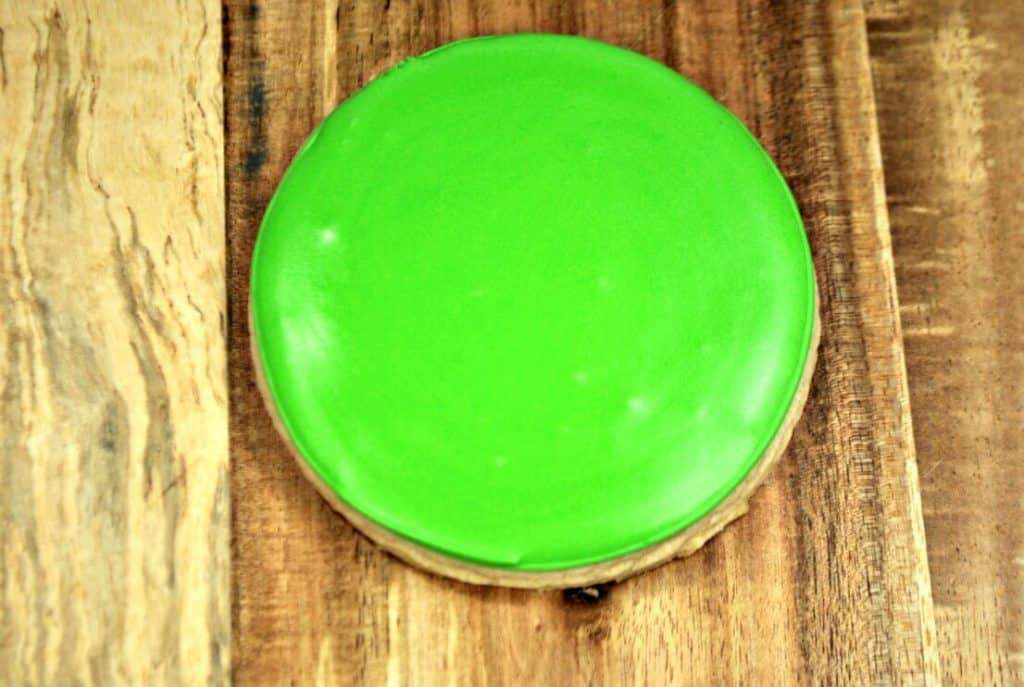 Piping the Grinch's Face
Using the black icing, pipe out the details of the Grinch's face. Let's talk about how to make this easy: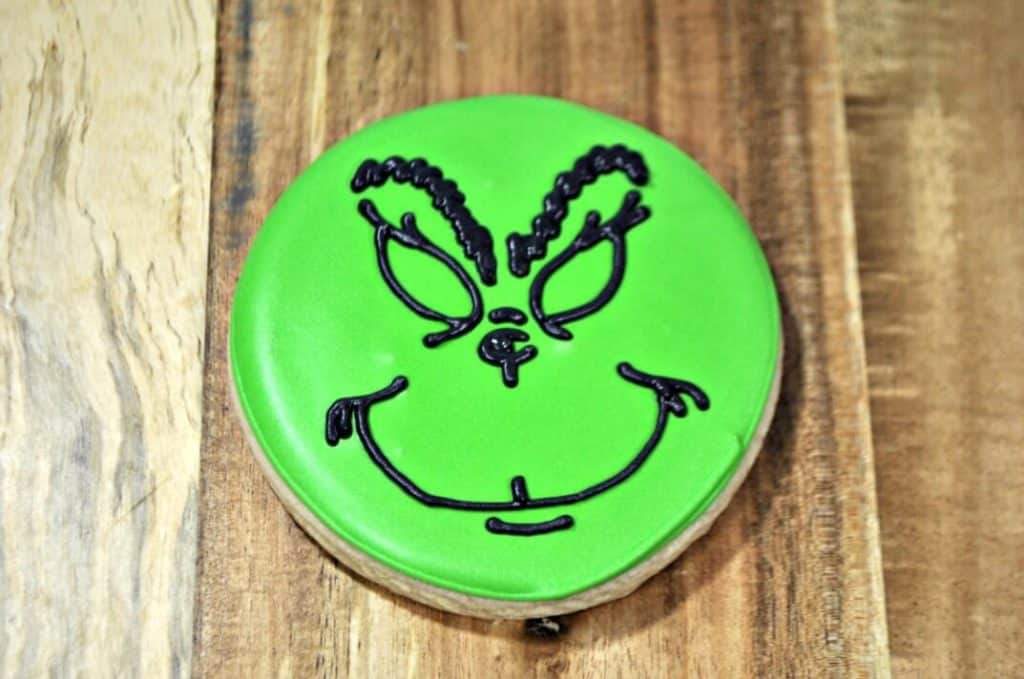 For the Grinch's eyes, notice that they are essentially almond shaped with eye lashes. Start with the pointed oval and then add the eyelashes. An easy way to do the pointed oval is to think of piping an open and a closed parenthesis that meet each other.
Then make candy cane shaped eye brows with a bit of a squiggle.
For the Grinch's nose, start with piping a small letter "C." Then strike through it with a straight line, and add a small curve above it.
For his smile, pipe a semi-circle. Then make a small line in the center followed by a slightly curved short line under the center of the smile.
Then pipe a curved line for the corners of his mouth. It's kind of like a really skinny letter "S" without the rounding. Add another squiggle, and you've got the outline.
Using your yellow piping bag, fill in the ovals for his eyes.
Then with your black piping bag, make a horseshoe shape or half-circle for his pupils.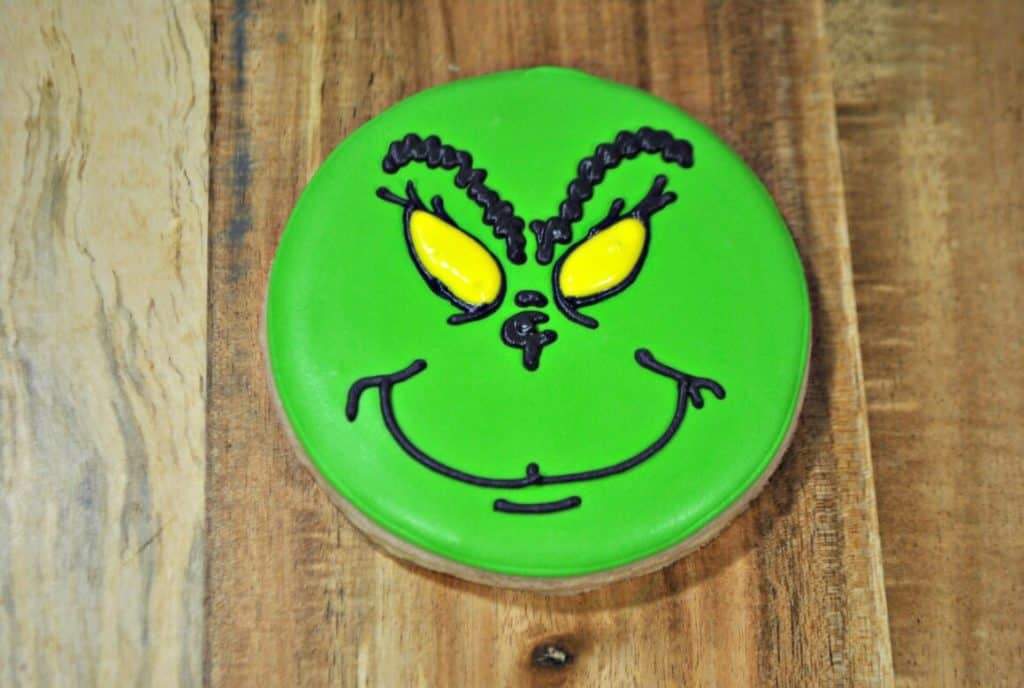 Et voila! You have a Grinch Christmas cookie!  Be sure to let the cookies dry for an hour before serving.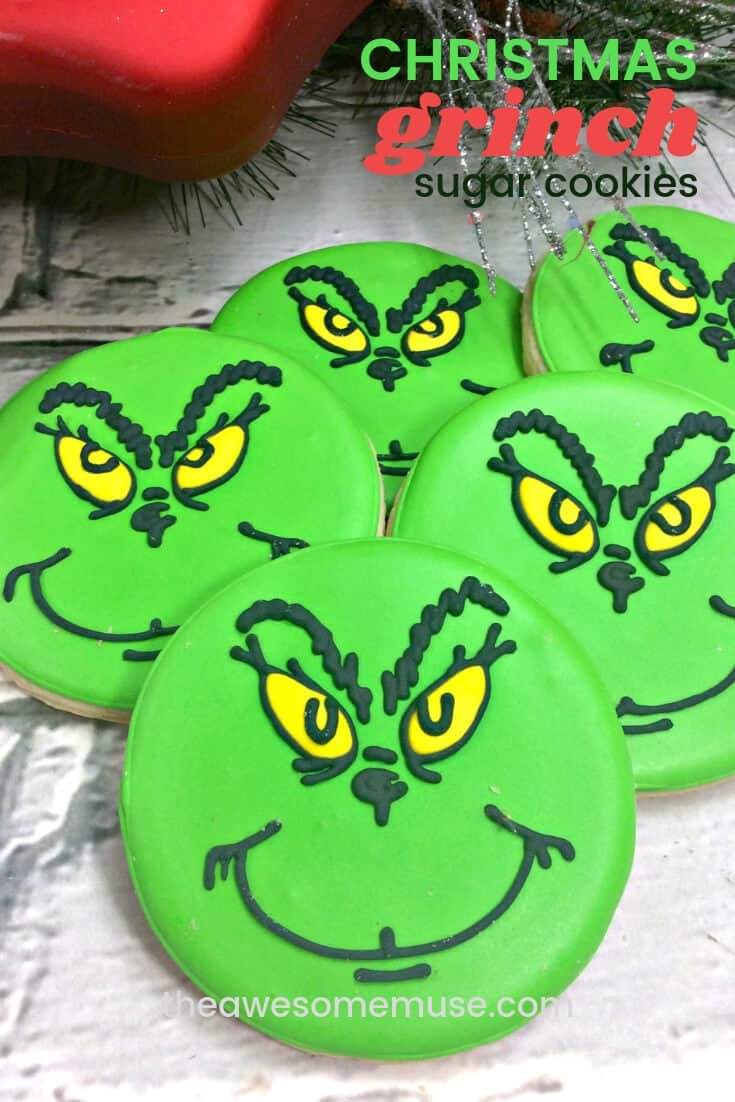 You may also enjoy:
If you're looking for some other fun Christmas traditions, learn all about Krampus the Christmas Bad Boy. He and The Grinch would be great friends.
Print and Save the Recipe

Print Recipe
Grinch Sugar Cookies
Grinch sugar cookies are so much fun to make with the kids during the holidays. And they go great with a glass of milk for Santa!
Ingredients
Ingredients for Grinch Sugar Cookies
1

cup

Unsalted Sweet Cream Butter

softened

1 1/2

cups

Powdered Sugar

1

tsp

Vanilla

1

Egg

3

cups

Flour

1

tsp

Baking Soda

1

tsp

Cream of Tartar

Circle Cookie Cutter
Ingredients for Icing
4

Egg Whites

1/2

tsp

Cream of Tartar

1/2

tsp

Vanilla

4 1/2

cups

Powdered Sugar

Green, Golden Yellow, and Black Gel Food Coloring

3 Disposable Piping Bags Fitted With a Number 2 Tip

1 Squeeze Bottle
Instructions
Instructions for Grinch Sugar Cookies
Preheat oven to 350 degrees.

Cover a cookie sheet with parchment paper and set aside.

Using a standing mixer, cream together the butter, powder sugar, vanilla, and egg, and mix until combined and creamy.

Using a large bowl, combine the flour, baking soda, and cream of tartar.

Gradually add in the dry ingredients and mix on low speed.

Using your hands, continue to mix until fully combined.

Lightly flour a cutting board and knead the cookie dough a couple of times.

Roll out the dough to about 1/2 inch thick.

Cut out 12 circles and place onto a cookie sheet.

Bake for 8 minutes or until lightly golden brown.

Repeat steps until completely out of dough.

Let cookies cool completely.
Instructions for Royal Icing
Using the standing mixer, combine the egg whites, cream of tartar, vanilla and powder sugar and mix until combined and stiff peaks form.

Split icing into 3 bowls, putting approximately 3 tablespoons of white icing each in the second and third bowls.

Add 1-2 drops of Green into the first of the three bowls.

Add a few drops of golden yellow into the second bowl.

Add a few drops of black gel coloring into the third bowl.

Mix until the colors are blended and the shades you want.

Scoop about 1/4 Cup of icing into each of the three bags. You should have 3 piping bags, one for Golden Yellow, Black, and Green.


Add 2-4 tsp of water into the remaining green icing in the bowl and mix until combined.

Pour the icing into a squeeze bottle.

Using the green icing, pipe a line around the edge of the circle on each cookie.

Fill in the circle with the thinned green icing and allow to dry overnight.

Using the black icing, pipe out the details of the Grinch's face.

Using the golden yellow piping bag, fill in the spot for the eyes.

Using the black icing, pipe the pupils of the eyes.

Allow cookies to dry for an hour before enjoying!
Notes
Please note that nutrition facts are subject to change based on your choice of ingredients. Because the nutrition facts for the icing can vary based on how much is used, we have only included the calories for the base cookie. 
For this recipe, depending on how much icing you use, your calories and other nutrition facts per serving may vary as there will be icing left over.
When you make the icing, you will have extra - particularly of the yellow icing as you will not likely need the full 1/4 cup of icing to fill in the yellows of the Grinch's eyes. 
If you need a more accurate nutrition facts estimation based on how much icing you use, we suggest weighing the icing before you use it, and then weigh how much remains when you have finished decorating the cookies. Then calculate from there.
For example, the icing recipe in total is 2,179 calories. If you only use all of the icing, you'll add 181 calories to each cookie. You won't need nearly that much though. You just need to make enough icing to have some extra in case of errors.
try it and share!
Please let us know how you enjoy our Grinch Sugar Cookies. If you make it yourself, please let us know on Pinterest that you tried it and tag us with #theawesomemuse on your Instagram photo. If you haven't had a chance to make it yet, be sure to save the recipe on Pinterest so you'll remember where you found it.
You may enjoy following our Pinterest Boards, Christmas Recipes and Cookie Recipes.