This post may contain affiliate links, which means we may receive a commission, at no extra cost to you, if you make a purchase through a link. We are a participant in the Amazon Services LLC Associates Program, an affiliate advertising program designed to provide a means for us to earn fees by linking to Amazon.com and affiliated sites.Please see our
Disclosure
for more information.
Our Easy Meaty Chili Recipe has been sponsored by Mealthy. All opinions shared are my own.
Pressure cooking has been all the rage in the past few years, and I've been excited to give it a try. Like many of you, I consider myself to be a pretty good home cook. I can make some pretty complicated dishes well, but I also appreciate the ease of good ol' comfort food. So one of my family's favorite dishes in the fall is so simple. In fact, we call it "easy meaty chili."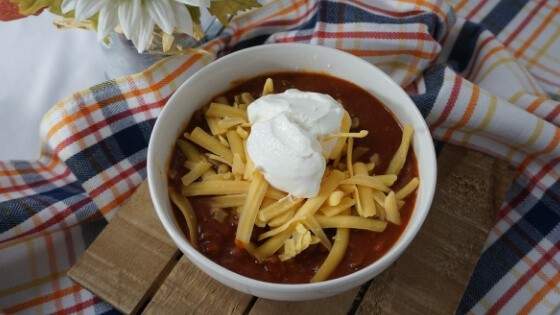 I was invited to try this great new product, the Mealthy MultiPot. It's the hot new multi-cooker on the market, and it's so easy to use! I was so excited to try one of my family's favorite recipes to help cut down on our cooking time. Less time in the kitchen means more time with my loved ones, after all.
So I adapted one of our favorite recipes, Easy Meaty Chili, for use in the Mealthy MultiPot. It had such great flavor, saved me a lot of time standing over the stove (and my feet appreciated that too), and the dish was a hit!
And there's so much I can do with the MultiPot. I can use it as a:
Pressure Cooker
Steamer
Rice Cooker
Yogurt Maker
Saute Pan and
Slow Cooker.
I enjoyed it so much that I'll be giving away a fun #MealthyMoms Cooking Kit! So be sure to make it to the end of the post for the details. Let's make some chili!
Let's make some chili! Try our easy meaty chili made in the new Mealthy MultiPot.
Easy Meaty Chili is great comfort food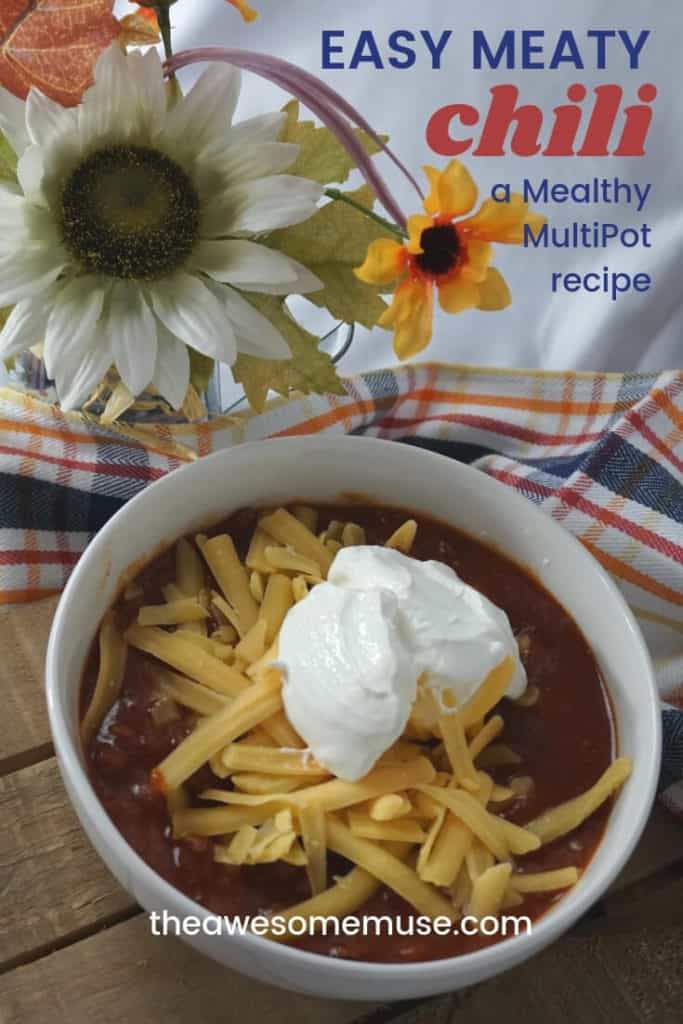 I like to make this dish in bulk as it freezes well and is great to save for nights when I don't feel like cooking. But it's also great for serving at parties. In fact, a great chili bar is perfect to set up for football viewing parties or tailgating or for hosting a game night.
It's so easy to make! It's not quite set it and forget it as it is a multi-cooker using high pressure. So everyone needs to use it safely. But it's so hands off while it's cooking that it frees me up to prepare the rest of the toppings and any other dishes I'm serving with the chili like my famous cheese and bacon stuffed jalapeno poppers. YUM! They go so well together!
Serve it with a chili bar with lots of toppings
Hosting a party? Watching a football game? The great thing about this meaty chili recipe is that it's the perfect base chili for serving a chili bar. It's so simple, so you can really dress it up and customize it how you like.
Here's what to do. Set up a series of small bowls with all kinds of toppings so that your family and friends can enjoy their favorite toppings. They can treat it like a salad bar and really go to town making chili their way.
Need some ideas for chili toppings?
There are as many ways to top your chili as there are ways to make your chili. You can add all kinds of toppings to mix into your chili. Some favorites are:
Grated Cheddar or Jack Cheese
Sour Cream
Onions or chives
Jalapenos or other peppers
Sliced Avocado
Chopped Tomatoes
Crushed Tortilla Chips
Crushed Saltine Crackers
Nacho Cheese Sauce or Queso
Greek Yogurt
Tabasco or other hot sauce
Spicy Hot Olives
Tortillas for those who like to eat their chili like a burrito
Baked Potatoes for those who like to eat their chili as a potato topping
That's right, this chili can be served with toppings, or it can be a topping itself! It's so versatile.
Ingredients you need to make easy meaty chili
4 tbsp Olive Oil
36 oz Ground Beef
1 29 can of Tomato Sauce
1 15 oz can of Tomato Sauce
3 15 oz cans of Chili Beans
2 packs of Chili Seasoning – I used McCormack's Mild Chili Seasoning
2 Tbsp Cornstarch, optional for thickening
Salt to taste
Pepper to taste
Chili powder or cayenne pepper, optional, to taste
When I'm serving chili as part of a chili bar, I like to make the chili kind of mild. Not everyone can tolerate "heat" well, so I like to let the toppings do the work to bring the heat. If your family and friends love heat, feel free to kick your spices up a notch or two and seal in that flavor while it's cooking.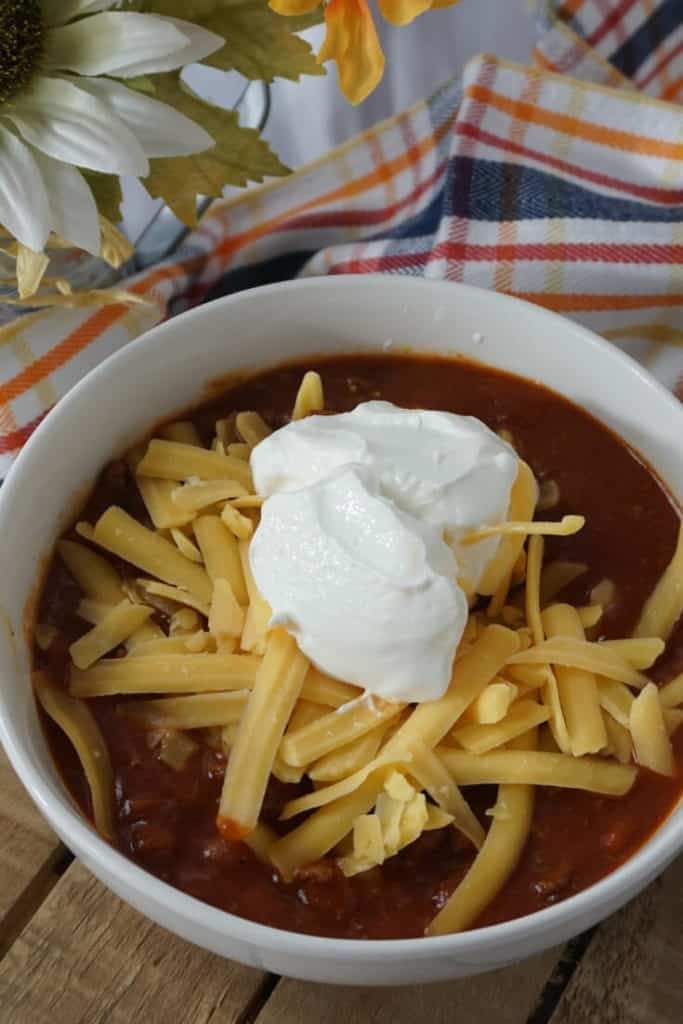 Recipe Notes
When you're pressure cooking, the water in your food doesn't evaporate like it does on the stove top. So the water that would normally evaporate from the tomato sauce stays in the chili. You need to have liquid in your recipe in order for the multi-cooker to come to pressure, so this recipe will result in a less thick chili than if you use the same ingredients and cook it on a stove top.
If you prefer a thick chili, there are two things you can do:
 Reduce the tomato sauce by 6 ounces. You will still have enough tomato sauce to come to pressure, but you will have a thicker chili.
Make the recipe as is and add a bit of cornstarch. I found that about 2 Tbsp was enough to do the trick to my taste.
Print and Save the Recipe

Print Recipe
Easy Meaty Chili
The great thing about easy meaty chili is that it is the perfect chili base for serving as a chili bar with lots of toppings. It's great for parties and tailgating.
Ingredients
4

T

Olive Oil

36

oz

Ground Beef

1

can

Tomato Sauce

29 oz size

1

can

Tomato Sauce

15 oz size

3

cans

Chili Beans

15 oz size

2

packs

Chili Seasoning

I used McCormack's Mild Chili Seasoning

2

T

Cornstarch

optional for thickening

Salt

to taste

Pepper

to taste

Chili Powder

optional, to taste

Cayenne Pepper

optional, to taste
Instructions
Add Olive Oil to the Mealthy MultiPot's stainless steel bowl.

Chop your ground beef into pieces and put it into your MultiPot. Add salt and pepper. Turn it to saute.

Close and seal the MultiPot and set the timer for 6 minutes. Open it every 2 minutes to stir the meat so that it browns evenly.

After 6 minutes, check to see if your meat has cooked thoroughly. Depending on how much fat is in the meat, you may need to add a little more time.

Once the ground beef has cooked, use silicon mitts (2 come with the MultiPot) to remove the stainless steel bowl from the multi-cooker to drain the meat.

After draining, replace the meat into the stainless steel bowl and return the bowl to the MultiPot.

Add your tomato sauce, chili beans, and chili seasoning to the MultiPot.

Then select High Pressure and set a timer for 25 minutes.

After the Mealthy MultiPot comes to pressure (about 10 minutes), it will begin to pressure cook your easy meaty chili. Do not open the vent or the lid while it is cooking.

Once the timer goes off, turn the vent button to vent.

After any steam has vented, gently open the lid and stir your chili. You may wish to stir in some cornstarch if you like a thicker chili.
Notes
Please note that nutrition facts are subject to change based on your choice of ingredients and toppings. 
#MealthyMoms Giveaway
We're pleased to team up with Mealthy to giveaway a #MealthyMoms Cooking Kit. One lucky winner will receive:
$35 Gift Card for Mealthy
An exclusive #MealthyMoms Bamboo 4 Piece Utensil Set
A #MealthyMoms Sept Highlight Recipe Card Set
try it and share!
Please let us know how you enjoy our Easy Meaty Chili recipe. If you make it yourself, please let us know on Pinterest that you tried it and tag us with #theawesomemuse on your Instagram photo. If you haven't had a chance to make it yet, be sure to save the recipe on Pinterest so you'll remember where you found it.
You may enjoy following our Pinterest Boards, MultiCooker Recipes and Slow Cooker Recipes.