This post may contain affiliate links, which means we may receive a commission, at no extra cost to you, if you make a purchase through a link. We are a participant in the Amazon Services LLC Associates Program, an affiliate advertising program designed to provide a means for us to earn fees by linking to Amazon.com and affiliated sites.Please see our
Disclosure
for more information.
Our Start Your Christmas Fun in 5 Minutes tips and Christmas Classic Game Kit giveaway have been sponsored by Catholic Central. All opinions are my own.
T'is the season for Christmas fun! Many places are decorated for the holidays, Christmas music is on the radio, and if you're like me, your Netflix queue is full of great Christmas movies. Christmas cookies are in the oven, and it's time to have some great fun with your family.
My family loves to play games during the holidays. We love to play games with each other, the kids in our family, and even with our dogs! So whether we're playing fetch or Battleship, or even some fun-loving contests, we're having a blast at Christmas time.
After Christmas dinner, which really happens at lunch time at our house, but we call it dinner anyway, we like to play games with our dogs. We call this "Dog Christmas" and it's probably our favorite Christmas tradition. Our dogs get a new toy in their stocking, and then we time them to see how long it takes them to remove the squeaker. It doesn't take very long – usually only a few minutes.
So the dogs go crazy; they wear themselves out, and that means naps for them, and game time for us! We can enjoy our gaming time once they are snoring. Whether we're playing a classic like Monopoly or Pictionary or a strategy game, we love spending time together playing our games during Christmas vacation.
Stick around until the end of the post to find a fun Christmas Classic Game Kit giveaway!
Christmas Fun in 5 activity starters
So if you feel a food coma coming on, it's time to break out some fun and Christmas shenanigans of your own. There are some great ways to get the Christmas spirit flowing, and Catholic Central has given us some great ideas for how to easily get the party started.
They shared a handy printable with us that you can download with some ideas for fun holiday activities. There are even some fun facts about Christmas too! Just click on the image below to download it directly.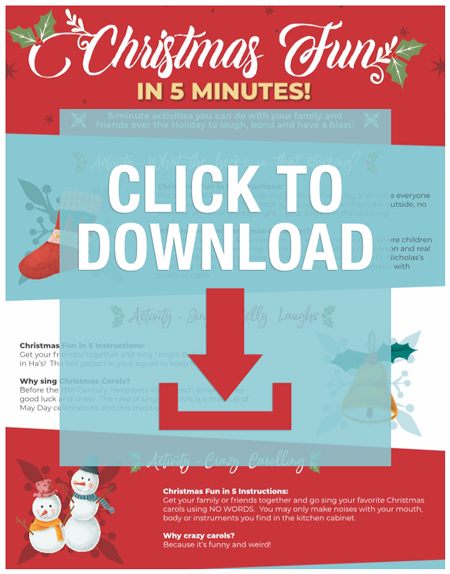 Create some fun holiday memories with the great #Christmas Fun in 5 activity starters printable.
Whether you're wrapping someone up like a Christmas mummy or giving Santa a makeover, it's all in good fun. And you'll find some great "fun facts" about Christmas traditions.
For example, did you know that the first Christmas cards were sent in 1843 and only cost a penny to mail? I didn't realize that. Can you imagine buying a stamp for only a penny? I sure can't!
Enter to Win a Christmas Classic Game Kit
If your family would like to try some fun games, be sure to enter for a chance to win a Christmas Classic Game Kit from Catholic Central. There's an assortment of 4 classic games which will be chosen at random. The list includes Monopoly, Sorry, Connect 4, UNO, Pictionary, Twister, Operation, Apples to Apples, Life, Simon, Battleship, and more!
a Rafflecopter giveaway

You may enjoy following these boards on Pinterest:  Christmas Recipes and Christmas Cookies.