This post may contain affiliate links, which means we may receive a commission, at no extra cost to you, if you make a purchase through a link. We are a participant in the Amazon Services LLC Associates Program, an affiliate advertising program designed to provide a means for us to earn fees by linking to Amazon.com and affiliated sites.Please see our
Disclosure
for more information.
Who says the guys get to have all the fun? Not me! But this recipe for Super Bowl Chili is definitely going to be helpful for them and tasty for everyone! If you are hosting a Super Bowl party this year, or even if you're just looking for a really great, healthy chili recipe, this is for you.  It helps you to burn belly fat and get you lean! Say what? Can that even be real?
Clark Bartram makes good chili
According to Clark Bartram, it is the real deal.  Clark is a performance and nutrition expert for Six Pack Abs.  He is also the lead advisor to the International Sports Sciences Association.  So he knows his stuff.
You may also enjoy our Pressure Cooker Chili recipe too. It is great to serve for tailgating or a football party along with our Loaded Baked Potato Footballs (skins).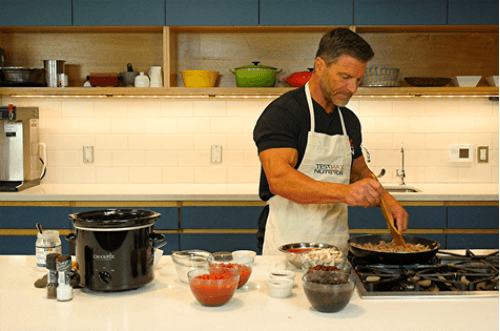 What's Testosterone got to do with Super Bowl Chili?
But why is this particular recipe great for the men? Because it helps to raise testosterone.
When mens' testosterone levels are low, they can experience muscle loss, low energy and a loss of sex drive.  And their bodies store a lot of the food they eat as belly fat. Particularly once a man turns 30, his testosterone levels can decrease by 1-2% a year.  Once he reaches his 50s, his testosterone production can be as much as half of what it used to be.
"Giving you half the testosterone production and double the belly fat — that's not good" says Bartram. "That's why it's so important for older men to start boosting natural testosterone immediately. Let your food be your medicine."
Let your food be your medicine. – Clark Bartram
The fats you find in red meat, salmon and tuna boost testosterone.  Other foods that provide a boost are:
almonds
garlic
eggs
cabbage
spinach
asparagus
avocados
bananas
watermelon
citrus fruit
grapes, and
honey.
Estrogen's role
So Super Bowl Chili is a testosterone booster.  One way it helps to do that is by incorporating an estrogen blocker, white button mushrooms.  White button mushrooms are a key ingredient to blocking estrogen, the female version of testosterone. Estrogen can cause men to bloat, develop breast tissue and store more fat around the waist.  Rising estrogen levels also cause your belly fat to start producing a testosterone killing chemical that creates even more estrogen.
Super Bowl Chili
Bartram offers more testosterone boosting food tips at the site, TestMaxMeals.com.  He talks about three "so-called" healthy foods that can dramatically decrease testosterone levels, and three "cheat" foods that can boost testosterone. He also explains how to easily prepare and cook a week's worth of meals in less than an hour and a half for little money.  Super Bowl Chili is one of these recipes.
So let's get down to the nitty-gritty.  This is a great Super Bowl Chili recipe whether you are interested in boosting testosterone levels or simply want a super chili to serve for the Super Bowl.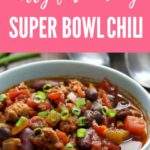 Print Recipe
Belly Fat Melting Super Bowl Chili
Super Bowl Chili is a great, healthy option to serve for a party.
Ingredients
2

lbs.

ground beef

15% fat

1

cup

white button mushrooms

1/2

cup

chopped onions

2

tbs.

chili powder

1

jar organic tomato puree

1

can kidney beans

1

can black beans

1

can organic chopped tomatoes

pinch

of salt

garlic to taste
Instructions
Sautee Ground Beef until it is brown.

Drain the meat.

Place meat into big pot and add all other ingredients.

Cook on medium heat, stirring occasionally for 30-45 minutes.
Notes
Recipe courtesy of Clark Bartram. Published with permission.